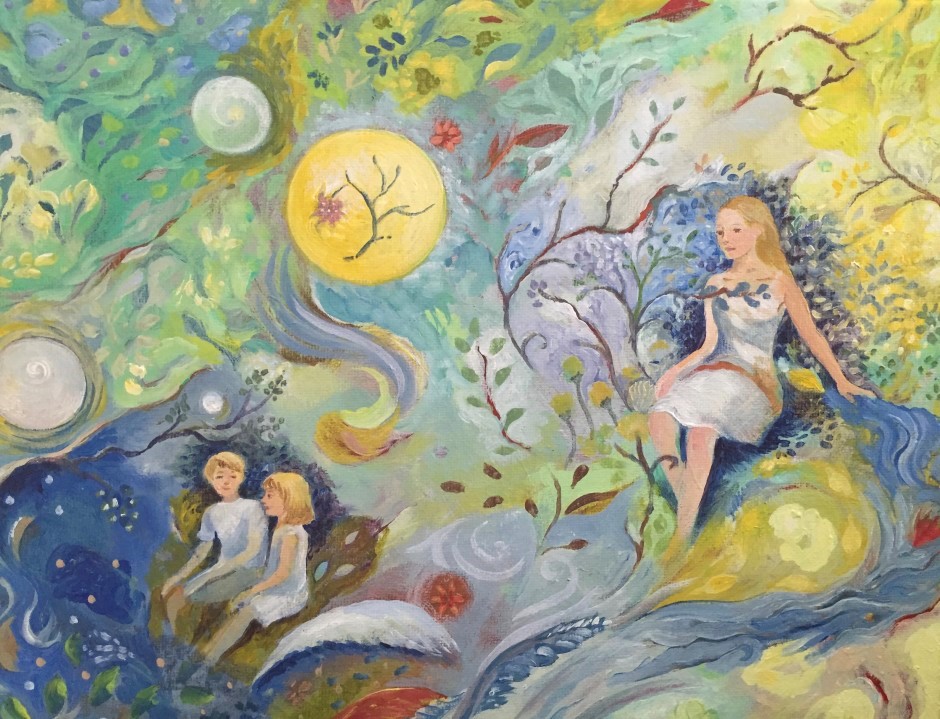 A recent Spirit Painting
commissioned by a client 2016 copyright Elaine Clayton
Yesterday I painted a childhood scene, above. I was born and lived on the flat plains of the Texas Panhandle until I was about 10 years old. The land may be flat out there (oh yes, it defines "flat"), but the sky is multi-dimensional and ever changing. Clouds build in fathoms moving upward, their color and shape spectacularly mounting and powerful. Shadows from the clouds move like vast omens across the land at times. And when rain came, I remember running from it with other children in summer time, until at last, the cloud full of rain caught up with us, and giant round drops of warm water made dark circles on dry dirt, or on paved roads. The sky gave what the land did not–a particular elevated and hopeful, colorful, mysterious bounty. Where the land was austere, silent and seemingly ungiving for the most part, the sky was overly generous, entertaining and voluptuous. The wind was it's agent, whirling up dust devils and making the songs of ghosts, the way it could howl an eerie song on some days. It brought jagged looking and well-beat tumbleweeds passing by. They seemed like roaming story tellers who happened along, and somewhat like victims of circumstance. The sky knew where they had been before. I grew up expecting the sky to tell me something. I learned to look at the clouds for information and guidance. The intuitive kind of knowing that comes from feeling inspired by the brilliance in nature is what I"m talking about here, the way sky communicates that which we ought to have recognized anyway, but need prompts and reminders. Gentle and sometimes dramatic. I believe the sky is "the veil" between us and heaven, and it symbolizes our ability to know intuitively and to quietly observe things which we need unveiled. It is like doing a tea reading, but instead of looking down into a tea cup, you just look up instead.