Discover the Art of Intuitive Drawing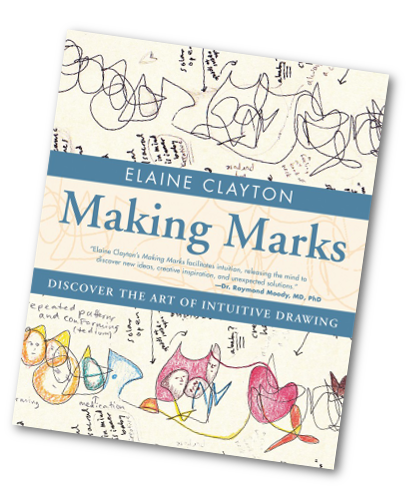 "When you pick up a pencil and allow yourself the freedom to make marks and lines, your hand can unlock deeply held memories and emotions which are beyond words. In Making Marks, Elaine Clayton describes her original process for awakening the reader's creative, intuitive awareness. Whether or not you think you have artistic talent, this book will give you the self-confidence to explore your own hidden potentials."—Laurie Nadel, PhD, bestselling author of Sixth Sense: Unlocking Your Ultimate Mind Power
"This is a remarkable book. It shows how a universal urge—to make marks—can be a doorway to dimensions of consciousness of which we're unaware in our waking life."—Larry Dossey, MD, author of One Mind and The Science of Premonitions
Do you remember being a child and the pure joy brought on by a box of crayons and piece of paper? Do you still find yourself sketching away every time you pick up a pencil? That's because drawing is a natural impulse that stays with us throughout our entire lives. Whether you are sketching in a notebook or carving your name in the sand, this simple, stream-of-consciousness activity is a window into your deepest, truest self.
In Making Marks, you'll learn that every single line, smudge, or spot you make contains visual imagery with the power to heal the past, develop your sense of empathy, and reveal solutions and answers you never realized before. You don't need to have any specific experience or skills to benefit from this book; through simple steps and interactive exercises, people of all ages and artistic abilities can gain insight and learn to reconnect with their creative selves.
With beautiful black-and-white and full-color illustrations, Making Marks is a powerful guide to self-discovery. Tap into your unconsciousness as artist and spiritual guide Elaine Clayton takes you on a journey of the soul.
Through the simple act of drawing—whether it's doodling or creating detailed illustrations—you can embrace your inner voice and unlock the power of your intuitive intelligence.
Selected one of Top 10 Most Inspiring Books by Aspiremag April 2016
"Most people doodle, (a term that Clayton dislikes because it implies unimportance) but as the artist and intuitive, so clearly shows, those renderings can mean more than scribbles on a page. Readers are encouraged to see drawing as "a pathway to unconscious knowledge." To access this knowledge, Clayton has readers make marks in a relaxed manner that allows their minds to roam free. The next step is to find meaning in the lines and circles and apply them to one's life. A genuine "how-to", the book is filled with exercises that invite readers to experiment with drawing in different ways: drawing with your less dominant hand, looking at pictures in new ways, drawing from memories and dreams. More advanced techniques show readers how to do intuitive stream drawings–a controlled image that gains structure though observation, which then can be used to do intuitive readings. The well-organized book combines clearly designated exercises with chapter endings, "Drawing Conclusions," that give focus and direction. A freeing, comprehensive, fully illustrated guide to the inside. "BOOKLIST http://www.booklistonline.com/Making-Marks-Discover-the-Art-of-Intuitive-Drawing-Elaine-Clayton/pid=6686420
"Drawing is a powerful act that can tap into a deep-seated, intuitive process involved with creativity and the emotional life. Elaine Clayton's Making Marks facilitates intuition, releasing the mind to discover new ideas, creative inspiration and unexpected solutions."—Dr. Raymond Moody, MD, PhD author of New York Times Bestseller LIFE AFTER LIFE
"The benefits of art practice is not limited to producing a work of art. It is a way of finding the space between rational thinking and intuitive discovery. This wonderful book is a guide to help everyone locate and explore the space in-between."—Marshall Arisman, painter, illustrator and educator
"Elaine Clayton shows us how the value of drawing for pure pleasure can transform our lives."—Marga Odahowski, Director of Studies, International Residential College at Univ. of Virginia
"Elaine Clayton reminds us all that the simple act of mark making can be a generative act. She unpacks the contemporary mental constructs that obscure the power of drawing first discovered by our earliest human ancestors, and invites us through this primal activity to dive back into the well of the possible."—Maria Artemis, internationally known sculptor
"A wonderful vacation from everyday life and mind awaits you in this book. Set the lines free and see where you go!"—Karen Rauch Carter, author of Make a Shift, Change Your Life!
Listen to a recent interview about MAKING MARKS on Provocative Enlightenment
Published by Atria Books/Beyond Words, an imprint of Simon & Schuster
224 pages • Trade paperback • $18.00 ($21.00 Canada)
On sale May 5, 2014