See below on this page for booking author visits and workshops on Stream Drawing to Develop Empathy
Bonnie dreams of riding horses: racing around barrels at the rodeo, jumping fences in the steeplechase, lassoing cattle out on the range. When Sugar, Bonnie's beloved plastic pony, pops a spring and Bonnie's dad takes her for riding lessons on a real horse, her dreams come true. She learns how to walk, trot, and take her first jumps, and how to tack, groom, and care for a horse. Then, as summer turns into fall, comes Bonnie's first horse show—with a blue ribbon for her, and surprise for Sugar, too.
A Blue Ribbon for Sugar captures the joy and excitement of riding a horse for the very first time. Carefully researched, full of information and detail, and lovingly illustrated with bright, energetic watercolors, it's the perfect primer for the child who dreams of learning to ride.
A Blue Ribbon for Sugar
Written and illustrated by Elaine Clayton
Roaring Brook Press, 2006
10 x 8 inches, 32 pages. ISBN 1-59643-1571-1
The Yeoman's Daring Daughter 
and the Princes in the Tower
"Akin to Shakespeare in Love for the juvenile market. . . . An exciting tale, made imaginable."—Chicago Tribune
"A lively introduction to one of England's most enduring mysteries."—Publishers Weekly
"Delightful."—Kirkus Reviews
Do you know a real prince? I do. I know two of them! And one of them is to be crowned the next king of England. I'm to help sew the coronation robes. But last night, I overheard a very wicked plan. And if I don't help the princes quickly, they may be locked in the tower forever!
Based on a fascinating chapter in English history and told through the secret correspondence between a guard's daughter and Prince Edward and Prince Richard of England, The Yeoman's Daring Daughter and the Princes in the Tower imagines an exciting solution to a very real royal mystery.
The Yeoman's Daring Daughter and the Princes in the Tower
Written and illustrated by Elaine Clayton
Crown Books for Young Readers, 1999
8 x 10 inches, 32 pages. ISBN 0-517-70984-8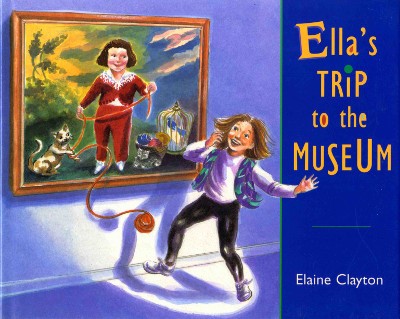 Ella's Trip to the Museum
"Captures that giddy feeling of pure sensory overload that one sometimes gets when walking into a museum for the very first time."—New York Times Book Review. Read review
"Shows without a doubt that fine art should transport its viewers."—Publishers Weekly
In a museum, almost anything can happen. At least, that's what Ella discovers on a visit with her school group. Paintings wave to her. Angels sing. And is she imagining things, or is that statue dancing?
Whether it's real or imagined, fact or fiction, one thing is for certain—Ella definitely knows how to visit a museum. And she's sure to show children and adults what magical and mysterious things can happen when you really look at art.
Ella's Trip to the Museum
Written and illustrated by Elaine Clayton
Crown Books for Young Readers, 1996
10 x 8 inches, 32 pages. ISBN 0-517-70080-8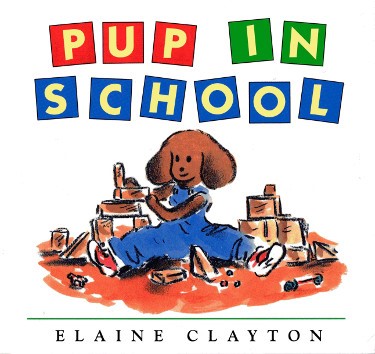 Pup in School
Pup loves school. He loves playing with blocks, finding magic rocks, and reading in the big chair. But when Rodney-dog comes around, he spoils all the fun. How can Pup say no to the bossiest dog in school?
Written with warmth and lively humor, Pup in School introduces an engaging cast of characters in a story that makes school fun for all.
Pup in School
Written and illustrated by Elaine Clayton
Crown Books for Young Readers, 1993
9 x 8 inches, 32 pages. ISBN 0-517-59085-0
Books illustrated by Elaine Clayton
The Georges and the Jewels, by Jane Smiley
42 Miles, by Tracy Vaughn Zimmer
Girl Coming in for a Landing, by April Halprin Wayland
The "Hamlet Chronicles" series, by Gregory Maguire: Six Haunted Hairdos, Five Alien Elves. Four Stupid Cupids, Three Rotten Eggs, A Couple of April Fools, One Final Firecracker
The Boy with the Dinosaur Hands, by Al Carusone
Show and Tell, by Stephanie Greene
The Ghost of Lizard Light, by Elvira Woodruff
Programs for Children
I have done programs for children for over 30 years (in museums, schools, libraries, galleries) as artist and visiting author. My intent with these drawing workshops is to support the healthy development of empathy amongst peers, enhance the positive feelings in class dynamics and to allow students to have time in their day to make marks without pressure of being judged or graded for those marks made.
Self expression, empathy for peers and joy for learning through mark making allows individual students to be more mindful and centered for all other classwork and to have greater confidence as they learn. These hour long in-classroom drawing experiences really can support a young learner while also helping develop positive group dynamics.
Gesture Drawing Workshop and Stream Drawing
I work with each school to individualize specific needs per class. In general, I spend about an hour (or less or more if needed) in each classroom working with that group using drawing techniques I have developed over the years, Gesture Drawing and Stream Drawing.
Gesture Drawing: Students take turns at the easel drawing without seeing what their drawing looks like–instead they look at a student who poses in a gesture, and draw that student. The point isn't to make a fabulous drawing but to imagine how it would feel to be in the poser's position. The rest of the group supports the one at the easel. Students take turns at the easel and at posing. This is a fun, lively and very expressive workshop, rewarding in that students feel supported by their peers and feel confident in their own mark-making. The drawings are full of emotion and are beautiful–even though the one drawing didn't see what he/she was drawing at the time it was created!
Stream Drawing: Students sit at their desks (or on the floor, depending on the space/room we are in) and draw using vine charcoal on large newsprint. They draw using non-dominant hand, with eyes closed. This is "stream of consciousness drawing" and is a meditative practice. After drawing freely, students gaze at their drawing and share what they've found or what they see or feel about their drawing. This is an exciting and beautiful way to help students go inward to gain mindful, empathic and positive feelings while mark-making.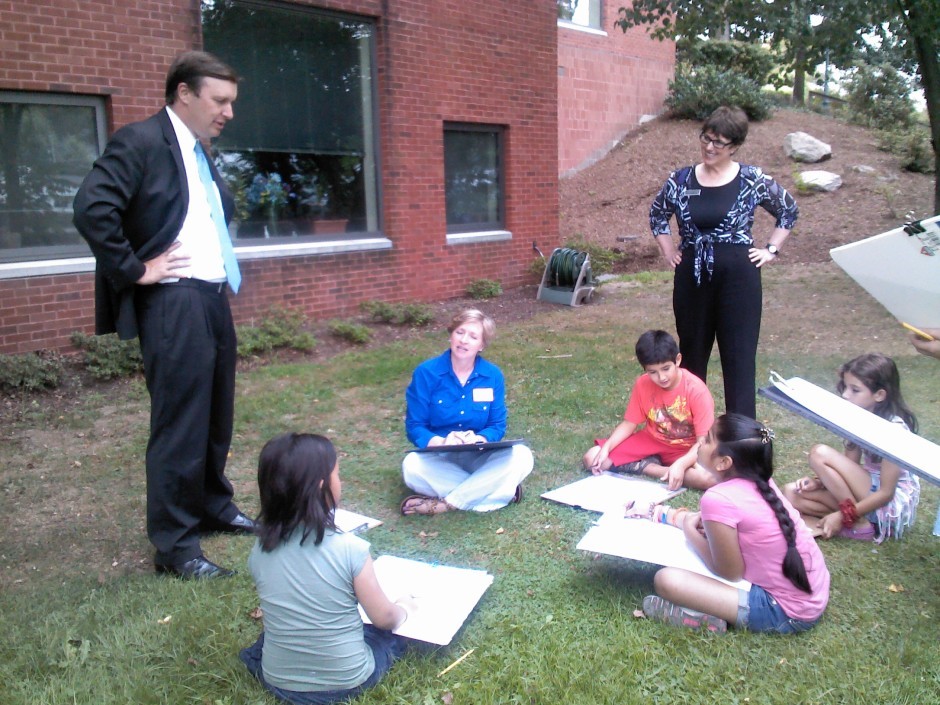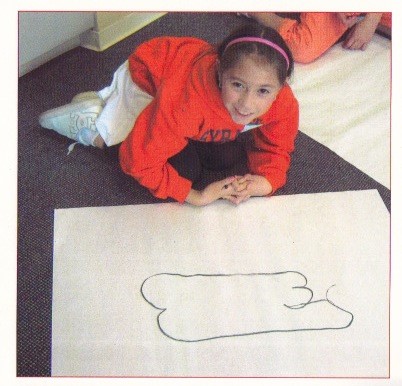 (Above)Senator Chris Murphy visiting a recent stream drawing workshop at the Westport Public Library and a girl working on a gesture drawing.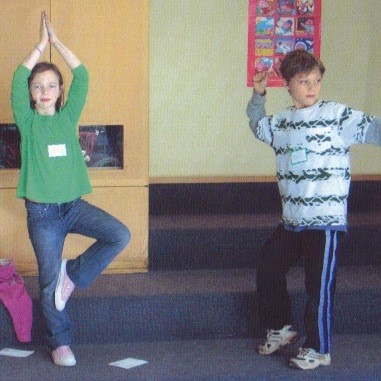 Posing while the mark makers draw!